What's the first training tool an owner should get for a new puppy or dog?
A canvas dummy?
A dummy launcher?
A check chord?
A portable kennel should be the first order of business for a new dog owner.
No matter what you call them—a dog crate, a dog carrier or portable kennel—or which style you pick, this particular product is a must as a training tool to start out a pup or new dog.
This is based on the premise that most dogs like their own space; it's their home away from home, kind of a security blanket. When a dog is properly introduced, it's a very positive tool for early socializing, but more importantly for setting ground rules so the dog can avoid getting into trouble.
Introducing the dog to the kennel is the key to successfully using its new home as a training tool. It should be done with some patience, the idea being that you never should force a dog into any situation.
A good way to introduce a new puppy or dog to a portable kennel is to place it in a high traffic area, such as the
kitchen or TV room. At first, it's all right to use treats or food to get the dog to go into the kennel. After a couple days, the dog will realize it's very positive to go in the kennel.
Owners should avoid putting newspaper or anything else in the kennel that will collect odor. By using the
portable kennel as a training tool, an owner accomplishes two things. First, rules are established for the dog as well as giving it a secure and comfortable home.
An owner should be consistent in responding to a pup's need of going to the bathroom. The owner should set up a schedule to allow the puppy to out to an area to go to the bathroom. More importantly, the puppy should be let outside right after it eats or wakes up.
Once the dog has adjusted to the kennel, the length of stays in it can be increased—without food as a reward. After that, a dog can be confined in the kennel when no one is home.
After a regular routine for the kennel has been established in the home, the owner should carry that training to a vehicle. At first, the new dog should be taken on short trips that eventually can be lengthened.
A portable car kennel protects a dog from injuring itself. As for being used as a tool for hunting, a portable kennel keeps the dog from becoming a nuisance, whether as a prevention from chewing something up in a vehicle or creating other trouble, such as making noise during the hunt. What we're doing is we're instilling manners and not allowing the pup or older dog to get into a situation where it'll fail you.
All About Kennels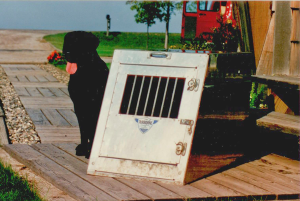 Car Kennels come in varied styles, materials, and sizes. Some are approved for airline travel, yet some very simple in design—made just for use in a house or vehicle.
There are basically three kinds of commercial portable kennels: aluminum, wire, and molded plastic.
The plastic version, such as the Porta Pet, is available at most local sporting and retail stores and usually can be purchased for about $100.
Following is a list of places for ordering some other models, which range in price from about $80 to $300.
• Zinger Aluminum Dog Crate.
1-800-351-8411.
www.zingerwinger.com
• Custom Molding.
1-800-853-2655.
www.easyloaderkennels.com
• Jones Trailers
1-800-336-0366
www.jonestrailers.com
• Ruff Tough Kennels
1-605-351-7632
www.rufftoughkennels.com
One error some owners make is buying a kennel that is too big. Dogs don't need all that space, and if a buddy goes hunting with you, two kennels can be put side-by-side in the back of most hunting vehicles.